Brand New Hotel !!
Express hotel that suitable for those who are looking for quick and affordable accommodation service hotel with amazing low prices. Our YellowTruck Coffee Shop will fulfill your quick bites or formal meeting with your co-workers.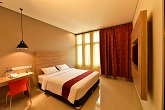 an express setup
Express room for those looking for a budget accommodation solution without sacrificing perfect cleanliness and hygiene. Bugdettravellers, this is your best solution !!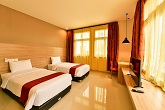 a comfortable solution
Efficient room type for most business people that keep moving, or for those who want to enjoy their stay at our express hotel. Regardless your needs, our express superior room can easily meet your needs!!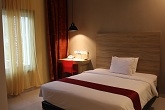 connected rooms for family
Connected Rooms that can helped those families travelling with children, these moderately quite rooms that provide both comfort of security and privacy for the parents without sacrificing your wallet.